Our BPI-certified analysts use this important diagnostic tool to grade the performance of an existing home about to undergo energy efficiency improvements as well as ensure a tight energy-efficient envelope in new construction. We advise new home builders to conduct a blower door test after the home is insulated, but before the drywall is hung. Newly enforced building codes have stringent requirements for air infiltration. This test will be able to quantify the results of your home before it is too late—or too costly—to repair the problems.
In a procedure called Blower Door Directed Air Sealing, Diversified Energy helps to locate and fix leaks in an existing house. Even homes that have been built fairly recently have major issues regarding their inability to be cooled or heated appropriately. The owners report hot or cold spots, in addition to excessive energy bills. Our first step in diagnosing the issues with these homes is the blower door test. For a more detailed and thorough audit, a homeowner may also incorporate duct blaster testing along with an infrared inspection. Of course, the DE 360 Energy Audit offers the most detailed reporting of your home's energy deficiencies.
Blower Door testing quantifies airflow through leaks in your home, detects energy loss, and pinpoints air intrusion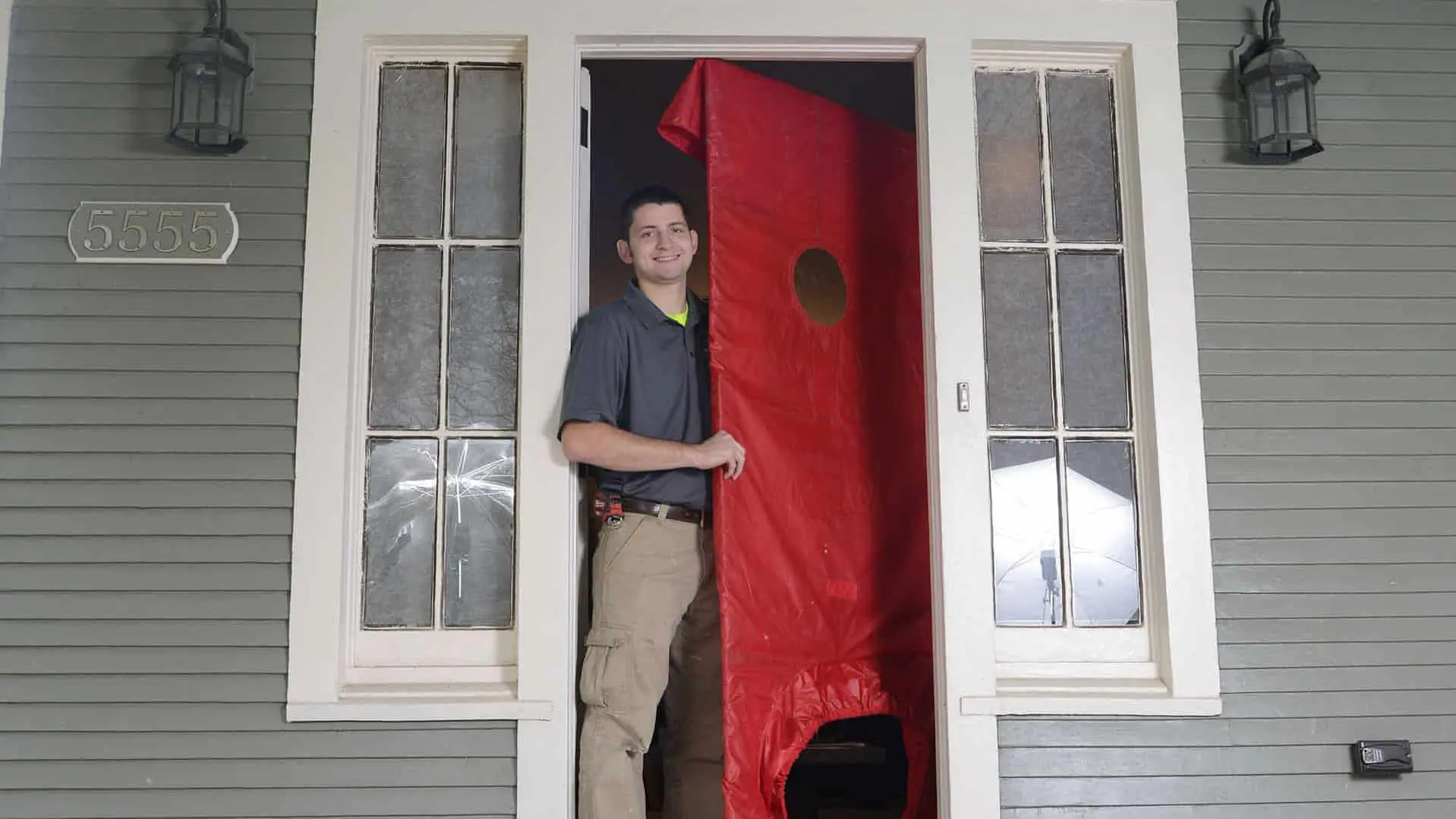 Video: Blower Door Diagnostic Testing
Benefits Of Blower Door Testing On Your Home
A blower door test is a diagnostic tool used to measure the airtightness of a building envelope or the barrier that separates indoor and outdoor environments. The test is performed by sealing all windows and doors in the home, then using a powerful fan to depressurize the building and measure the amount of air that leaks in. Blower door testing provides several key benefits, including:
Improved energy efficiency: A blower door test helps identify air leaks and other sources of air infiltration in a home, allowing homeowners to make necessary improvements to reduce air infiltration and improve energy efficiency. This can help reduce energy bills and increase the overall comfort of a home.
Enhanced indoor air quality: Air infiltration can bring in outdoor pollutants, such as pollen, dust, and other allergens, which can negatively impact indoor air quality. By reducing air infiltration through a blower door test and subsequent improvements, homeowners can improve indoor air quality and reduce the risk of respiratory problems and other health issues.
Increased comfort: Air leaks can cause temperature imbalances and drafts, leading to discomfort in a home. By reducing air infiltration through a blower door test and subsequent improvements, homeowners can increase comfort levels and enjoy a more consistent indoor temperature.
Improved durability of the building envelope: Air infiltration can cause moisture to enter a building, leading to mold growth and other structural issues. By reducing air infiltration through a blower door test and subsequent improvements, homeowners can improve the durability of their building envelope and reduce the risk of moisture damage.
Increased value of home: Energy efficiency and improved indoor air quality are important factors for homebuyers, and a blower door test can demonstrate the efforts made by homeowners to improve these factors. This can increase the value of a home and make it more attractive to potential buyers.
Overall, blower door testing is a valuable diagnostic tool that can help homeowners improve the energy efficiency, indoor air quality, comfort, durability, and value of their homes. By identifying sources of air infiltration and making necessary improvements, homeowners can enjoy a healthier, more comfortable, and more energy-efficient living environment.
Enjoy A Cleaner, Healthier Home & Lower Your Energy Bills