It is our advanced knowledge of building science, and the use of cutting-edge diagnostic testing tools that allow us to provide energy-efficiency solutions and fixes that deliver results. Our BPI Certified Technicians use the most advanced diagnostic tools, including thermal/infrared imaging, blower door testing, and duct leakage testing to detect, locate and quantify deficiencies. We can also quantify your projected monthly energy savings by making our recommended energy efficiency improvements.
During every 360 Energy Audit, we go the extra mile to offer solutions to improve your family's comfort and safety, enhance your home's overall energy efficiency, and improve your indoor air quality.
Other companies' 10-minute walk-through energy audits simply can't provide the detailed reporting necessary to provide professional consultations equivalent to DE's exacting standards.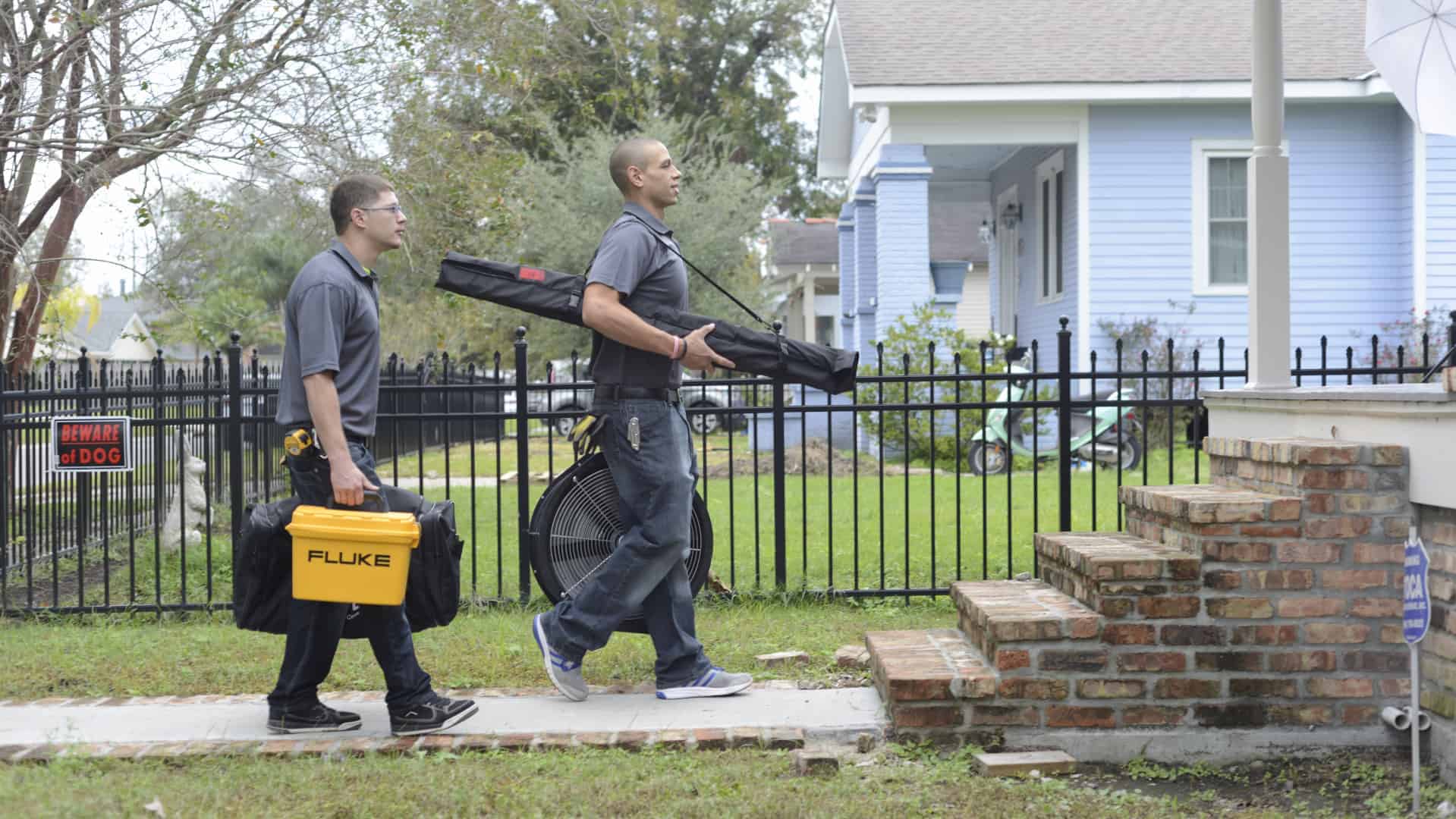 What Does The 360 Audit Include?
Every Diversified Energy 360 Energy Audit is custom designed based on the needs and goals of our client. Some clients are trying to diagnose specific problems in their homes, while others want a comprehensive overview of their home's performance, and what they can do to improve it. Regardless of your goal, you can rest assured that we will provide you with the most accurate and actionable information possible.
360 Energy Audit Services
Your Diversified Energy 360 Energy Audit can include any/all of the following services:
Your 360 Energy Audit will also include a thorough visual inspection:
Inspection of all doors & entryways
Inspection of all windows
Inspection of attic insulation
Inspection under raised floors & crawlspaces
Inspection of all HVAC equipment
You are welcome to observe and ask questions of our BPI-certified technicians as they perform your 360 Energy Audit. We will provide you with reports regarding your home's performance and recommendations about what we recommend you fix/repair. If the repairs necessary are part of Diversified Energy's scope of services, we can provide an estimate for the project as well.
How Much Does A 360 Energy Audit Cost?
Ultimately, the price of every 360 Energy Audit is custom quoted, because there are so many differences between homes. Contributing factors are the square footage of the conditioned space of the home, the number of HVAC units and the number of diagnostic services required and/or requested are all calculated into the final price of your 360 Energy Audit.
Contact us today for a custom quote for your Diversified Energy 360 Home Energy Efficiency Audit.
Does My Home Need A 360 Energy Audit?
Existing Homes
Existing homes, especially historic homes are notorious for being extremely energy inefficient, drafty, and having terrible indoor air quality. Older homes were built to lower standards and typically have less insulation. Older homes also have a higher chance of having leaky or damaged HVAC ductwork. And, older homes that have had time to settle are more than likely to have developed cracks and leaks.
New Homes
New homes, especially production homes can benefit from our 360 Energy Audit as well. We perform post-construction 360 Energy Audits on homes across the Gulf South to ensure that they meet the code and that the builder has delivered the energy-efficient home they promised. Our testing will make sure the air sealing, duct sealing, and insulation are all working as designed.
Enjoy A Cleaner, Healthier Home & Lower Your Energy Bills