Certified Thermography measures surface temperatures by using infrared images on the film to record the temperature variations of the building's heat spectrum. These infrared images help us to identify problems in the thermal envelope. Thermal photography is a quality control tool to ensure that insulation has been installed correctly and to detect air leakage in the home's conditioned envelope and ductwork system.
Level 1 Infrared Photography / Thermography can see where energy loss is happening through walls, floors, ceilings, and windows.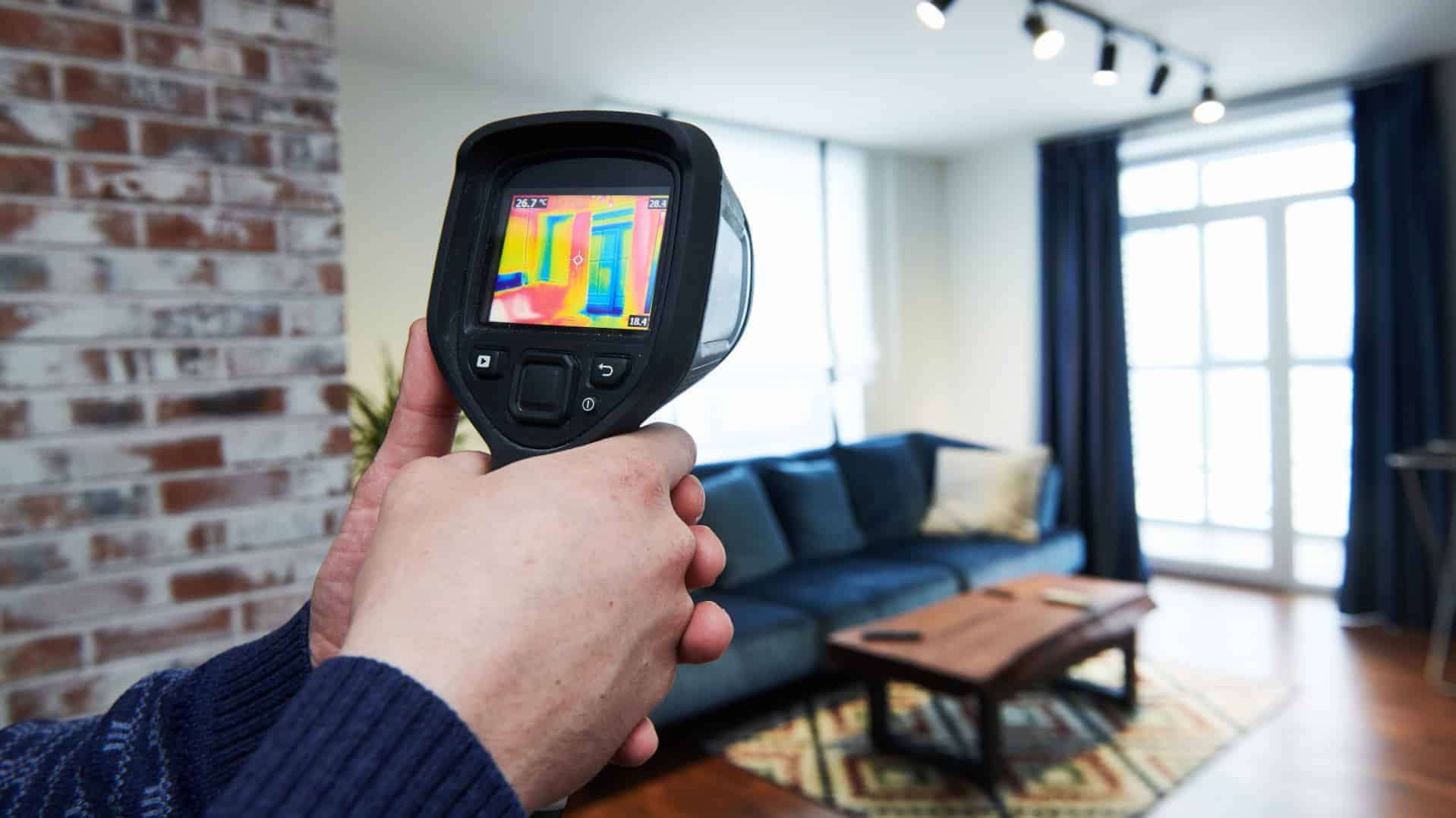 Video: Infrared Photography – Thermography
What Is Infrared Photography / Thermography?
Simply put, infrared photography/thermography allows us to see exactly where there are variations in thermal performance and temperature. This information lets us know where energy loss is occurring, so we can recommend remedies to improve the energy efficiency of your home.
From Wikipedia
Infrared thermography (IRT), thermal imaging, and thermal video are examples of infrared imaging science. Thermographic cameras usually detect radiation in the long-infrared range of the electromagnetic spectrum (roughly 9,000–14,000 nanometers or 9–14 µm) and produce images of that radiation, called thermograms.
Since infrared radiation is emitted by all objects with a temperature above absolute zero according to the black body radiation law, thermography makes it possible to see one's environment with or without visible illumination. The amount of radiation emitted by an object increases with temperature; therefore, thermography allows one to see variations in temperature.
When viewed through a thermal imaging camera, warm objects stand out well against cooler backgrounds; humans and other warm-blooded animals become easily visible against the environment, day or night. As a result, thermography is particularly useful to the military and other users of surveillance cameras.
Benefits Of Thermography
Thermography, also known as thermal imaging or infrared photography, is a non-invasive diagnostic tool that uses infrared technology to create images of the temperature distribution within a building.
The benefits of using thermography in diagnosing problems in a home include:
Improved efficiency: By identifying areas of heat loss, air leaks, and insulation gaps, thermography can help homeowners improve the energy efficiency of their homes and reduce heating and cooling costs.
Improved indoor air quality: By detecting sources of indoor air pollution, such as moisture problems and mold growth, thermography can help homeowners improve indoor air quality and reduce the risk of respiratory problems and other health issues.
Early detection of problems: Thermography can detect problems before they become visible to the naked eye, such as roof leaks, electrical hot spots, and hidden water damage. This allows homeowners to address problems early before they become more serious and costly to repair.
Non-invasive: Unlike other diagnostic tools that require destructive testing or invasive procedures, thermography is a non-invasive diagnostic tool that does not require any alterations to the home's structure. This makes it a safe and convenient tool for diagnosing problems in a home.
Cost-effective: By identifying problems early and reducing the need for more invasive and costly diagnostic tools, thermography can help homeowners save money and ensure that their homes are functioning optimally.
Overall, thermography is a valuable diagnostic tool for homeowners who want to improve the efficiency, indoor air quality, and overall performance of their homes. By using thermography, homeowners can detect problems early, address them before they become more serious, and ensure that their homes are safe and comfortable living environments.
Enjoy A Cleaner, Healthier Home & Lower Your Energy Bills